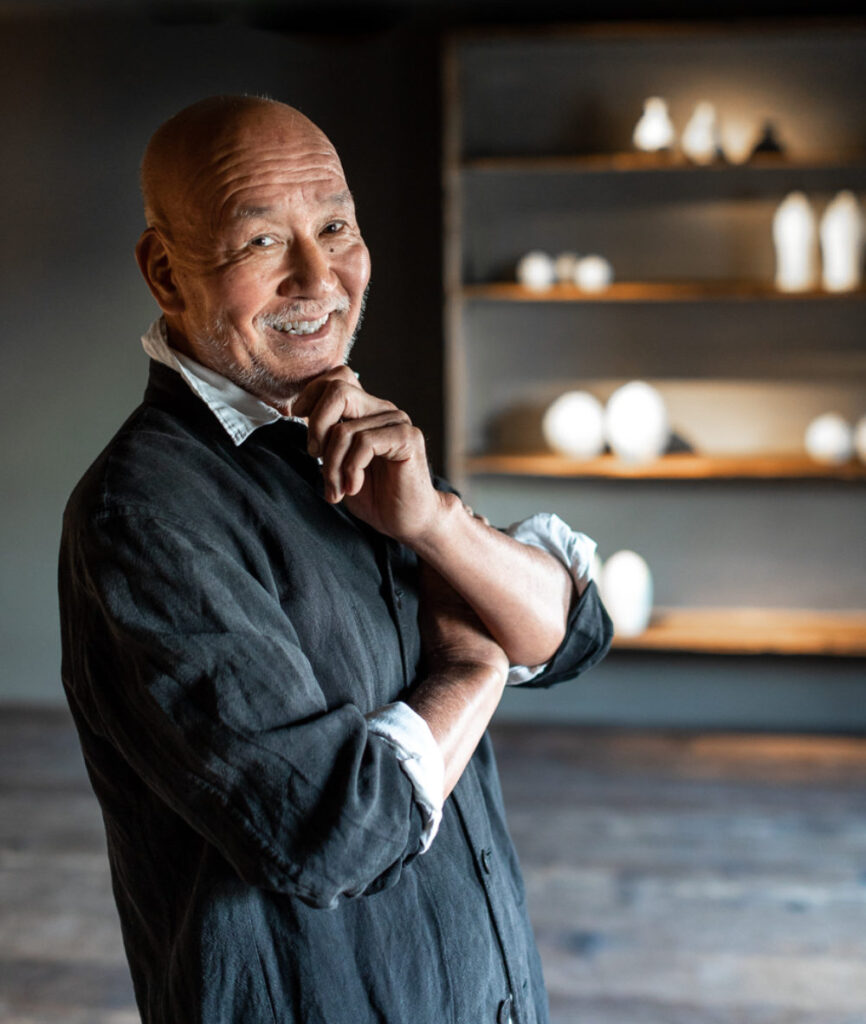 Born in 1947, Gosei, Nara, Japan.
One of the most gifted potters active in Japan today, Shiro Tsujimura has an extraordinary range of both glazes and forms. Influenced by Momoyama era tea aesthetics, he creates powerful functional vessels that are dramatic and highly unique. Unlike most of his contemporaries, who closely control the firing process, Tsujimura delights in the unexpected and incorporates chance into his creative process.
He began his artistic career studying oil painting; however, he became disillusioned during this process and abandoned the idea. Inspired by a classic Ido tea bowl from the Mingeikan Museum in Japan, Tsujimura decided to take up ceramics.
One of the leading ceramic artists of Japan, Tsujimura's art and approach are founded on the beauty and purity of the earth and its relationship and transformation with nature and fire. Tsujimura's creative and artistic personality is anything but conventional. Inspired, since 1965, by ancient Japanese and Korean techniques and traditions, and from his experience in the Zen temple of Sanshoji, Tsujimura's work is based on a strict relationship with the past and his uncompromising individuality.
Self-taught, one of the beauties of Tsujimura's work comes from his lack of formal artistic training. The uniqueness of his art can be summarized in his statement: "I have no teacher, and I take no apprentices". Independent, he creates his own style and his own techniques, always linked, however, to the traditions of the past.
His studio, built in the mountains of Nara, is the birthplace of his creations. It is with the earth from his property that Tsujimura creates his own clay. He works it, fires it and lets it mature and age with the passing of time. These pieces that age with time illustrate the importance that Tsujimura places on nature and the passing of time.
His work is shown in the collections of museums throughout the world, including the Asian Art Museum of San Francisco, California; Art Institute of Chicago; the Metropolitan Museum of Art, New York; the Museum of Fine Arts, Boston; the Cleveland Museum of Art; the Miho Museum, Shiga Prefecture, Japan; the Axel and May Vervoordt Foundation, Antwerp, Belgium, the Museum for Asiatische Kunst, Berlin; and the British Museum, London, UK.
© Portrait : Axel Vervoordt